Where does comprehension fit into the science of reading? Does the scientific evidence on reading–and literacy generally–suggest there's something seriously wrong with the standard approach to teaching reading comprehension in American schools? Could that explain a lot of the problems in our education system? And what happens in elementary classrooms that take a different approach?
Join Natalie for a lively and engaging six-episode podcast that dives into these questions and more. Called Reading Comprehension Revisited, it's the inaugural season of the Knowledge Matters Podcast.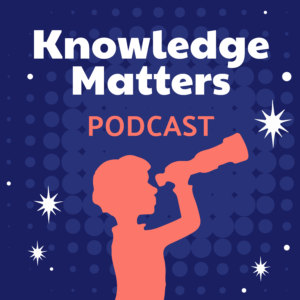 You'll hear from classroom teachers and district leaders who have made the switch from the typical approach to comprehension–which focuses on isolated skills like "finding the main idea"– to using a curriculum that focuses on building children's knowledge of the world.
You'll also hear from reading researcher Dr. Hugh Catts, who explains that many of his colleagues "kind of forgot" about the significant body of evidence showing that knowledge is crucial to comprehension–and focused their research on comprehension skills and strategies instead.
For more information, head to the website of the Knowledge Matters Campaign. You can also find the podcast, and subscribe, on your favorite podcast platform: Spotify, Apple, Amazon, or Google.
All six episodes are available now. Please give it a listen–and help spread the word.
A number of schools and districts have organized study groups around the podcast. In response to popular demand, Natalie has created a study guide to help guide discussion, which you can find on the website of the Knowledge Matters Campaign, here.
[Note: Natalie serves on the board of the parent organization of the Knowledge Matters Campaign, StandardsWork.She receives no financial compensation from either organization. While she generally supports the work of KMC in advocating for knowledge-building curriculum, Natalie's views and opinions may sometimes differ from those expressed by the organization and its Scientific Advisory Committee.]