Fiction
A MORE OBEDIENT WIFE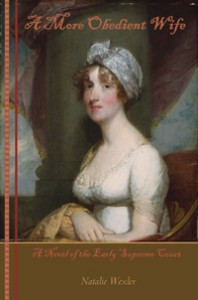 A unique blend of actual 18th-century letters and sensitively imagined fiction, A More Obedient Wife tells the story of two women in the 1790's—each in a troubled marriage to a Supreme Court Justice—swept up in the little-known but fascinating early history of our nation's premier judicial institution. Hannah Iredell, shy and insecure—and saddled with an embarrassing alcoholic mother-in-law—is plagued by doubts about her husband's fidelity. Hannah Wilson, flirtatious and only nineteen, marries a distinguished and extravagantly wealthy man thirty years her senior, but is soon dragged down into poverty and disgrace. When Mrs. Wilson finds herself attracted to Mrs. Iredell's charming husband, the two women's differences escalate into mutual hostility—until dramatic events lead them to form an unlikely friendship.
Winner of two awards, A More Obedient Wife has been described by reviewers as "riveting" (Midwest Book Review), "compelling" (Historical Novels Review Online), and "definitely one not to be missed" (Reader Views).
Click here to order A More Obedient Wife.
THE MOTHER DAUGHTER SHOW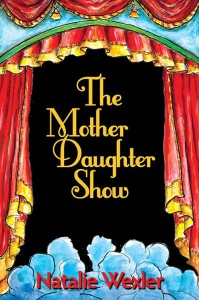 At Barton Friends, a D.C. prep school so elite its parent body includes the President and First Lady, three mothers throw themselves into organizing the annual musical revue. Will its Machiavellian intrigue somehow enable them to connect with their graduating daughters, who are fast spinning out of control?
For Barb Atkins, perennial Parents Association volunteer, the show is a way to prove her knack for defusing conflict. It's also her last chance to win over her rebellious daughter with an offering of love. Meanwhile, hard-driving businesswoman Susan Logan is poised to take control—something she's fast losing in her relationship with her daughter, who's hiding a dangerous secret. Susan's friend Amanda Marchetti is under serious financial pressure to return to the practice of law after twenty years as a stay-at-home mom. For her, the show is a path to rediscovering her long-dormant ambition to be a songwriter. And she hopes it will win her the respect of her uncommunicative daughter, who sees her mother only as a source of food and clean laundry.
Although Barb, Susan, and Amanda start out with the best of intentions, the final result is so disastrous it makes the evening news. But along the way, the three women discover some important truths about friendship, love, and the enduring strength of the mother-daughter bond.
The Mother Daughter Show has been called "clever, witty, and acutely observed social commentary" (Washington Independent Review of Books) and "an amusing and perceptive look at one of the most complex human relationships during its most turbulent year" (Portland Book Review).
Click here to order The Mother Daughter Show.
THE OBSERVER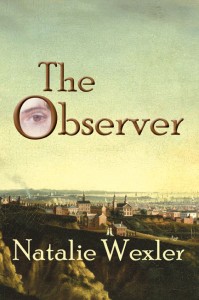 Baltimore, 1807: Eliza Anderson, 26 years old, defies prevailing ideas about a woman's proper place to become editor of the Observer, a magazine that blends serious commentary and satire. But while Eliza mocks her neighbors, someone in her household is observing her—and feeding scandalous information to her enemies.
Based on real events and incorporating excerpts from actual publications, The Observer sheds light on an era when the young nation was both insecure and feisty. At the same time, it spins a universal tale of forbidden ambition, frustrated love, and ultimately, hard-won empathy across boundaries of class and culture.
"Wexler handles all this material with sparkling wit, a keen ear for dialogue, and a sure hand at plot and pacing, turning a little-known footnote in feminist history into an unforgettable heroine. Very highly recommended." Historical Novel Society Indie Review
"One of the great strengths of this novel is Wexler's ability to draw complex characters who are not entirely what they seem. The rich and accurate real-life details that punctuate Wexler's story make The Observer an example of engaging and imaginative historical fiction. This is a novel that will instruct and delight readers, tempting them to learn more about early Baltimore." Washington Independent Review of Books
Click here to order The Observer.