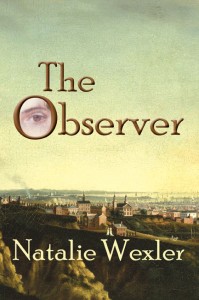 Baltimore, 1807: Eliza Anderson, 26 years old, defies prevailing ideas about a woman's proper place to become editor of the Observer, a magazine that blends serious commentary and satire. But while Eliza mocks her neighbors, someone in her household is observing her—and feeding scandalous information to her enemies.
The Observer has won a bronze medal from the Independent Publisher Book Awards in the category "Mid-Atlantic–Best Regional Fiction."
Based on real events and incorporating excerpts from actual publications, The Observer sheds light on an era when the young nation was both insecure and feisty. At the same time, it spins a universal tale of forbidden ambition, frustrated love, and ultimately, hard-won empathy across boundaries of class and culture.
From Historical Novel Society Indie Review:
Wexler (The Mother Daughter Show, A More Obedient Wife) bases her latest novel on the life of Eliza Anderson, who became in 1807 the first American woman ever to be the editor of a magazine when she founded Baltimore's smart, satirical weekly Observer. Eliza is already familiar with the editorial trade (regarding some recent submissions, she utters a wry line any editor might echo: "I imagine some of these offerings would be greatly improved by having their pages rearranged at random"), but nothing prepares her for the rivalries, the pressures, the compromises, and even the hard-won fun of producing fifty-two issues  of an increasingly-popular magazine.
The novel is set in a young and still quite raw America, and Eliza faces many well-dramatized challenges; indeed, she seems to welcome controversy, translating a scandalous French novel for public consumption and beginning an open affair with a French architect without exactly being an unmarried woman. Wexler handles all this material with sparkling wit, a keen ear for dialogue, and a sure hand at plot and pacing, turning a little-known footnote in feminist history into an unforgettable heroine. Very highly recommended.
From The Washington Independent Review of Books:
One of the great strengths of this novel is Wexler's ability to draw complex characters who are not entirely what they seem. Her characters morph in intriguing ways that draw the reader more deeply into their individual stories. Many are at one moment victims and, at another, "schemers." This vacillation between the two dynamics creates intrigue and drives the plot. …
As an historian, Wexler is able to place her reader "on the ground" in Federal Baltimore, a city just reaching its golden age of commercial success and cultural growth. Reading this book, one feels as if you are walking the muddy streets, smelling the slums, even glancing through the windows of Baltimore's elegant townhouses. …
Writing about this period requires an understanding of America as a new nation, struggling with its identity as a democracy and its role on the international stage. As an accomplished historian, Wexler is well-equipped to introduce her readers to this era and the individuals who inhabited it.  …
The rich and accurate real-life details that punctuate Wexler's story make The Observer an example of engaging and imaginative historical fiction. This is a novel that will instruct and delight readers, tempting them to learn more about early Baltimore.